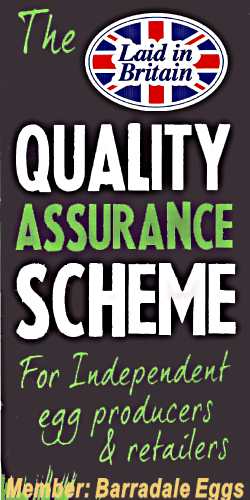 Laid in Britain Quality Eggs
Laid in Britain Accreditation
The Laid in Britain accreditation is awarded to egg producers, egg packing stations and retailers by (UKEP) UK Egg Producers Association. The accreditation is awarded after the egg company has passed stringent tests for the health and welfare of the hens and quality of produce.
Unlike other UK associations UKEP has heralded locally supplied eggs with the minimum length of the food chain, allowing easy tracing of their origin. Delivering the eggs close to the locality of egg production means that the carbon footprint is reduced. It pays to buy and promote Laid in Britain eggs!
Retailers and suppliers in the food industry can therefore be assured of a fast delivery of really fresh eggs to supply to their customers. Buying from your local egg producer and/or egg packing station can be rewarded with happier customers who prefer to buy eggs with a really great fresh taste.
Say No to Salmonella
Not a single LAID IN BRITAIN egg has ever tested positive for Salmonella. This makes Laid in Britain eggs unique, unlike other assurance schemes, apart from a vaccination programme against Salmonella, producers also make use of a competitive exclusion product to provide wider pathogen cover than vaccination alone.
Following the Laid in Britain guidelines all egg boxes marked with the Laid in Britain Logo are from Barradale's own poultry farm or locally produced eggs from associated farms. This guarantees extra fresh, high quality eggs clearly marked with their sell by date. With locally produced eggs, the delivery chain is short and eggs can be traced back to the originating farm.
Summary of the Laid in Britain Scheme
Chicken Vaccination Programme. Vaccination against main strains of Salmonellas
Added protection against Salmonella. Use of unique "Competitive Exclusion" product for added protection
Independent Laid in Britain audit Independent auditing of all sites and packing stations
Adhere to HACCP Procedures. Laid In Britain members and packing stations must adhere to strict HACCP procedures and high standards or risk elimination from the scheme
Testing and unit swabbing. Regular environmental testing & unit swabbing
Health and welfare of chickens. Poultry/producer/consumer health, welfare and safety is of paramount importance
Laid in Britain ID Codes. Laid In Britain ID codes on eggs/boxes. Fully traceable back to farm.
Egg Farm Coding. Packaging with individual farm details, but universal farm code
Best before dates. Best Before dates on egg boxes
Locally produced eggs. Locally produced, low food miles, guaranteeing very fresh eggs
All our eggs are printed with the unique farm identity code along with the best before date. Our full traceability is complete from farm to fridge.